Patrick J. McEnany 
Co-Founder, Chairman, President and Chief Executive Officer
Patrick J. McEnany has been Chief Executive Officer and a director of Catalyst since its formation in January 2002. In 2006 he became Chairman, President and Chief Executive Officer. From 1991 to April of 1997, Mr. McEnany was Chairman and Chief Executive Officer of Royce Laboratories, Inc. From 1997 to 1998, after the merger of Royce into Watson Pharmaceuticals, Inc., Mr. McEnany served as President of the wholly-owned Royce Laboratories subsidiary and Vice President of Corporate Development for Watson Pharmaceuticals, Inc. From 1993 through 1997, he also served as Vice Chairman and Director of the National Association of Pharmaceutical Manufacturers. He currently serves on the Board of Directors for the Jackson Memorial Hospital Foundation.
Patients and Biopharma: Trusted Partners in Fighting Rare Diseases
By Patrick J. McEnany
Co-Founder, Chairman, President and Chief Executive Officer
Catalyst Pharmaceuticals
Significant advances have been made in fighting rare diseases over the past decades. In the 10 years prior to the passage of the Orphan Drug Act in 1983, fewer than 10 drugs for rare diseases were approved by the U.S. FDA. Since then, an estimated 400 rare-disease therapies have been approved. In 2014, rare diseases comprised more than 40 percent of the 41 new drugs approved by the FDA – the highest number since the Orphan Drug Act was introduced. The FDA continues to invest heavily in research of treatment for rare diseases, spending about $14 million annually on clinical trials through the Orphan Products Grants Program.
Despite this progress, there are still no treatments for the vast proportion of the more than 7,000 known rare diseases and conditions in the US. As a result, there remains a significant medical and economic burden on more than 30 million Americans afflicted by a rare disease – about one in 10 people, many of them children. Clearly, those in the rare disease community are a largely underserved population with a huge unmet need in available therapies.
Partnerships between pharmaceutical companies and patient advocacy groups hold the key to closing the rare-disease treatment gap. According to the National Organization for Rare Disorders (NORD), more than 260 dedicated rare disease organizations comprise their patient advocacy network. Rare Disease Day, founded by the European Organization for Rare Diseases
(EURODIS) in 2008 and launched a year later by NORD, grows larger every year because of the continuing participation of a diverse group of advocates and pharma company sponsors. Their mutual commitment to improving patient care is the foundation for collaborative innovation in rare-disease education and research.
A Shared Mission
Patient advocates are passionate, knowledgeable activists who raise disease awareness among the medical community, policymakers, and government regulatory agencies. Patient advocacy played a critical role in passing the Orphan Drug Act, and continued efforts more than three decades later led to the 21st Century Cures Act in 2016. Many rare-disease advocates serve as "patient ambassadors," connecting with other patients in the community and sharing their experiences about daily living and treating the disease. Many advocates volunteer for clinical trials of investigational therapies with potentially serious side effects, or enroll in placebo-controlled studies where they may potentially not receive active treatment. These brave individuals are willing to take tremendous risks so that others may benefit.
For their part, biopharmaceutical companies provide financial and scientific resources that drive the discovery of innovative rare-disease therapies. But their commitment goes beyond research, extending into patient advocacy. Companies regularly engage their own patient ambassadors who advise on key decisions and processes to ensure patients' needs are incorporated during drug and clinical trial development, and that there is enough access to safe and effective medicines. There also are examples of industry-advocacy partnerships that advance research and treatment for rare diseases. In 2015, the US Hereditary Angioedema Association (HAEA) and four corporate partners pledged a total of $4.6 million to start the US HAEA Angioedema Center at UC San Diego. This first-of-its-kind institution offers comprehensive medical care to people with hereditary angioedema (HAE), a rare, debilitating swelling disorder that can affect people at any age, but usually manifests in children.
At Catalyst Pharmaceuticals, we actively seek working partnerships with rare disease organizations. For example, we gave an educational grant to Global Genes, a leading rare disease advocacy group, so they could start a web site for people with Lambert-Eaton myasthenic syndrome (LEMS), a rare neurological and neuromuscular disease that can impair patients' quality of life, both physically and emotionally. The grant also supported local "meetup" events which offer a forum for LEMS patients, caregivers, advocates, and medical experts to exchange practical information and discuss priorities for research, education, and clinical care.
Lessons in Advocacy
Pharma industry-patient organization partnerships are expected to become even stronger in the coming years. Still, there are some challenges that are testing this relationship. Despite growing efforts by pharma to incorporate patient advocates' voices into clinical trials and drug development, there is still the perception among some that pharma is concerned more about profits than patients. Another challenge is maintaining the delicate balance between collaboration and independence; industry must remember to always act as a resource for patient advocates without being unduly intrusive or influential. Companies can refer to industry guidelines for patient outreach and engagement, which are published in the Biotechnology Innovation Organization (BIO) Guiding Principles for Interaction with Patient Advocacy Organizations and the Pharmaceutical Research and Manufacturers of America (PhRMA) Principles on Interactions with Patient Groups.
Moving forward, there are several ways that pharma can demonstrate long-term commitment to supporting the rare disease community. Leveraging our relationships with therapeutic experts, we can serve as a conduit for information-exchange between rare-disease patients and healthcare professionals who understand the unmet medical needs and unique challenges of this community. We can arrange for care-management services to educate patients on administering medications and managing side effects. We can fund educational resources for rare-disease advocacy groups, as well as provide logistical support for fundraising and awareness-raising activities. For all of these initiatives, the key is for both stakeholder groups to openly communicate about their roles, expectations, and objectives.
Building the Relationship in an Evolving Landscape
As we set our sights on the next wave of patient advocacy, pharma companies and patient organizations have a tremendous opportunity to fulfill our joint mission of empowering patients with rare diseases. We are partners in long-term scientific investment, and the constructive relationships between us can truly improve the lives of rare-disease patients and their loved ones. As the biopharmaceutical industry continues to engage and collaborate with advocates who are leading the fight against rare diseases, it is critical to keep patient well-being at the core of our efforts.
Source: Life Science Leader
Steven R. Miller
Chief Operating Officer and Chief Scientific Officer
Steven R. Miller, PhD, is responsible for Catalyst's product development program, which includes all aspects of chemistry and manufacturing controls, quality systems, contract operations, and development planning. Dr. Miller has 25 years of experience in the pharmaceutical and healthcare industries, joining Catalyst in 2007. Most recently he has managed Catalyst's in-licensing of CPP-115 and Catalyst's newest drug, Firdapse®, and taken these products through various preclinical and clinical development studies. Dr. Miller previously served as Executive Director for Research and Development Operations at Watson Pharmaceuticals and as Vice President of Research and Product Development at Royce Laboratories; he has also managed medical device development groups at Baxter Diagnostics and worked as an analytical chemist for the U.S. Food and Drug Administration. Dr. Miller received his doctorate in physical organic chemistry at the University of Miami; his work has been published in numerous technical and professional journals including Journal of Analytical Chemistry, Journal of the American Chemical Society, Journal of Medicinal Chemistry, and Chemical Communications.
Alicia Grande
Vice President, Chief Financial Officer and Treasurer
Alicia Grande, CPA, CMA, was appointed Vice President, Chief Financial Officer and Treasurer of Catalyst in December 2011, having joined the company as Corporate Controller and Chief Accounting Officer in 2007. Prior to that, she was Senior Director of Finance for The Hackett Group, Inc. (then known as Answerthink, Inc.), where she was responsible for all external and SEC financial reporting and served as head of the firm's Sarbanes-Oxley Act compliance team. Ms. Grande previously was employed for more than 10 years by various public accounting firms, including Arthur Andersen, LLP. Ms. Grande earned a bachelor of science degree in business administration, with majors in accounting and finance, from Syracuse University and a master of accounting degree from Florida International University.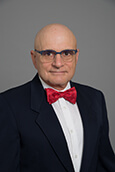 Gary Ingenito
Chief Medical Officer
Gary Ingenito, MD, PhD, joined Catalyst in July 2015 as Chief Medical Officer. Dr. Ingenito brings more than 25 years of knowledge and experience in the field of pharmaceutical development: including drugs, biologics, and combination products. During this time, Dr. Ingenito held executive responsibilities for clinical research, regulatory, drug safety, and medical affairs at pharmaceutical companies and contract research organizations. Dr. Ingenito initially joined Sandoz Pharmaceuticals in the neuroendocrine group and progressed to become head of medical affairs. He spent 8 years at Otsuka Pharmaceuticals, overseeing the approval of anti-infective, cardiovascular, and central nervous system products. Dr. Ingenito has held positions at Corning-Besselaar, Angiotech Pharmaceuticals, Biotest Pharmaceuticals, and Boehringer-Ingelheim Pharmaceuticals. After obtaining his bachelor of arts degree from Johns Hopkins University, Dr. Ingenito earned his medical degree at Jefferson Medical College, and a doctor of philosophy degree from Thomas Jefferson University. He completed a post-graduate residency in neurology at the University of Miami, Jackson Memorial Hospital.
Brian Elsbernd
Chief Legal and Compliance Officer

Brian Elsbernd joined Catalyst in February 2016 as the Senior Vice President of Legal and Compliance and was promoted to Chief Legal and Compliance Officer in December 2018. Prior to joining Catalyst, Mr. Elsbernd was Senior Director of US Healthcare Compliance at Mallinckrodt Pharmaceuticals, a growing US specialty pharmaceutical business. From its inception, he led their healthcare compliance and business ethics program while also managing multiple other legal and business functions. Previously, Mr. Elsbernd was an associate at Proskauer Rose LLP, within its Health Care practice group, representing healthcare providers nationwide in matters pertaining to regulatory and administrative law, transactional matters, litigation, and reimbursement issues. Mr. Elsbernd earned his law degree from Saint Louis University School of Law and his undergraduate degree at the University of Illinois.
Jeff Del Carmen
Chief Commercial Officer
Jeff Del Carmen joined Catalyst in august 2018 as Senior Vice President of Sales and Marketing and was promoted to Chief Commercial Officer in June 2020. Mr. Del Carmen brings over 22 years of pharmaceutical experience to Catalyst, including numerous commercial leadership positions in the neurology orphan disease space. Most recently, Mr. Del Carmen served as VP of Business Development at Paragon Biosciences where he focused on business development for orphan neurology diseases. Prior to joining Paragon, he was Senior Director-Rare Disease Marketing at Marathon Pharmaceuticals. Previously, Mr. Del Carmen served as VP of Sales at Insys Therapeutics from January 2016 to July 2016, as well as National Sales Director of Movement Disorders and Regional Business Director of Neurology at Lundbeck. He also held numerous sales and marketing positions of increasing responsibility at Abbott Laboratories.  Mr. Del Carmen holds a B.A. in Economics from the University of Dayton and an Executive MBA from the University of Wisconsin-Madison.
Stanley Iyadurai
Vice President of Clinical Development
Stanley Iyadurai, M.D., Ph.D. joined Catalyst in August 2018 as Vice President of Clinical Development. Dr. Iyadurai brings to Catalyst an extensive background in clinical research and deep expertise with neuromuscular disorders. Most recently, Dr. Iyadurai served as Global Clinical Program Director, Clinical Research and Development, at CSL Behring, where he was responsible for managing/directing global neurology/immunology late-phase studies. Previously, Dr. Iyadurai was a full-time faculty member at the Ohio State University Division of Neuromuscular Medicine, Departments of Neurology and Pediatric Neurology at Nationwide Children's Hospital and at Saint Louis University in the Departments of Neurology, Pediatrics and Pathology, where he focused on neuromuscular disorders. Dr. Iyadurai also served as the Director of the Neuromuscular Genetics Clinic at the Ohio State University. Dr. Iyadurai has experience in clinical research and clinical trial experience as either the Principal Investigator or one of the sub-Investigators in more than 40 clinical trials and has published multiple research articles in peer-reviewed journals. Dr. Iyadurai received M.D. and Ph.D. degrees from the University of Minnesota.
Lessons in Advocacy
BIO GUIDING PRINCIPLES FOR INTERACTION WITH PATIENT ADVOCACY ORGANIZATIONS
PhRMA Principles on Interactions with Patient Organizations